Den Hype um Cat-Content im Netz konnte ich nie so richtig nachvollziehen, außer mediale Pannen-Videos im TV waren Katzen in meinem Humorempfinden eher unterrepräsentiert. Dass hier schleunigst ein Umdenken erfolgen sollte, muss, zeigen die aktuellen Prognosen zu Katzen-Inhalten im Web. Demnach sprechen Experten von enormem Wachstumspotential » 2015 werden 90 Prozent der Inhalte im Internet Cat-Content sein! Mehr zeigt das folgende Video zum 'Catvertising' ;
Das Verhalten der Konsumenten hat sich demnach signifikant verschoben, von einfachen humoristischen End-90's Autsch-de-Fun-Sites, hin zum globalen Cat-Phänonem mit viralen Katzen. Agenturen, die diesen Trend nicht erkannt haben, werden es schwierig haben.


Youtube. Cats rule the world – Catvertising
We've seen phenomenal growth in this category. We taking that learning and applying it to our business model…
Arthur Fleishmann über Catvertising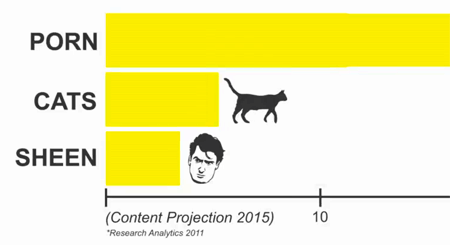 Epic! 🙂
via scheible.eu | Katzen-Foto, tikoim@flickr
Für alle die nicht an den Hype glauben mögen, dem sei Vanessa Fox' Standardwerk empfohlen: Hands-on Tipps mit 'Marketing in the Age of Google'
In ihrem Buch beschreibt Vanessa ausführlich, auf was es ankommt, wenn man sein Online-Business voranbringen möchte, und dabei effektiv in Google's Suchergebnissen erscheinen möchte. Gebt dem Nutzer, oder der sogenannten Search Persona, das nach was sie sucht. Und wenn es sich um links-rheinische Nischenprodukte handelt, ganz egal, jeder kann sein Produkt oder seine Dienstleistung an die Frau oder an den Mann bringen. Und dazu bedarf es keiner klassischen Rocket Science, sondern einfach simpler Marketing-Strategien und ein paar Grundregeln, damit Seiten heterogen den Weg zum Nutzer finden. It's not a trick, it's catvertising.
Nachtrag:
Ein Blick in den Youtube Kanal vom Cat-Content-Provider johnst172 birgt weitere Marketing in medias res Schätze » Real Life Case Studies from the centre of your heart towards the minds of marketers
Marketing in the Age of Pink Ponys

Pink Ponies: A Case Study
Dass man die Wendung "Pink Pony" so bedeutungsvoll aussprechen kann [@Min 00:20], das imponiert mir doch sehr. Die Assoziation zu "das wird alles verändern" will mir zugleich nicht so recht aus den Kopf weichen, "das wird alles verändern", "Pink Pony"… das Wording gepaart mit der Intonation werde ich mir für einen besonderen Augenblick aufheben, wenn es gilt ein Geschenk meinen Kids zu präsentieren. What a great idea. Just make it happen. You are the pony. M'kay.
Mehr Inspirationen gibt es auf johnst.com
Auch lesenswert auf Tikoim.de